Pulse One

Centralized management of enterprise services and apps in the data center and cloud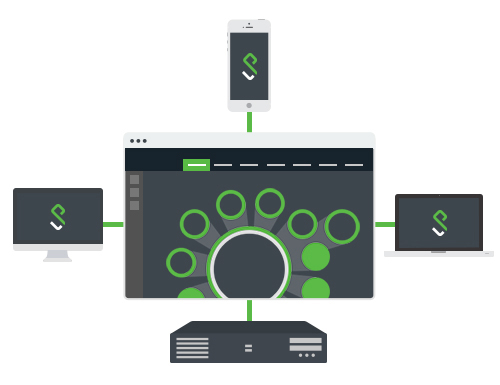 Pulse One
Pulse One Software
Pulse One On Premise Software
#PS-PONE-LICENSE-ONPREM
Our Price: $10,000.00
Click here to jump to more pricing!
Overview:
Pulse One makes box-by-box management a thing of the past. Administrators can now use its intuitive, role-based web console to centrally manage remote, mobile and campus access policies, report on appliance health and endpoint compliance, and update appliances by group.
Pulse One, available as a cloud-based or on-premises appliancebased management platform, is designed to streamline access management of enterprise services and applications in the datacenter and the cloud. The seamless IT admin experience of Pulse One unifies access policies for on-premise and cloud deployments while also addressing the management nuances of enterprise mobile security.
Capabilities
Converged management of access and endpoints
Unified control and visibility of access for laptops and mobile devices.
Group-based management
Automated updates of appliance configuration, policies and features by IT-defined groups.
Dashboard reporting
Drill-down analytics track overall system health and the status of individual appliances.
Built-in mobility management
Embedded EMM features for Pulse Workspace and corporate-owned mobile devices.
Total control, from one console
Complete end-to-end visibility from endpoints to appliances
Pulse One lets IT administrators control enterprise access to the data center and cloud from one console. It enables converged policy management for remote, mobile, and campus access security, as well as unified compliance reporting for laptops, smartphones, and tablets.
Pulse One can be easily integrated with back-office systems such as Microsoft Active Directory. Deployed as Software-as-a-Service (SaaS), it scales and introduces new features without the need for data center logistics and planning.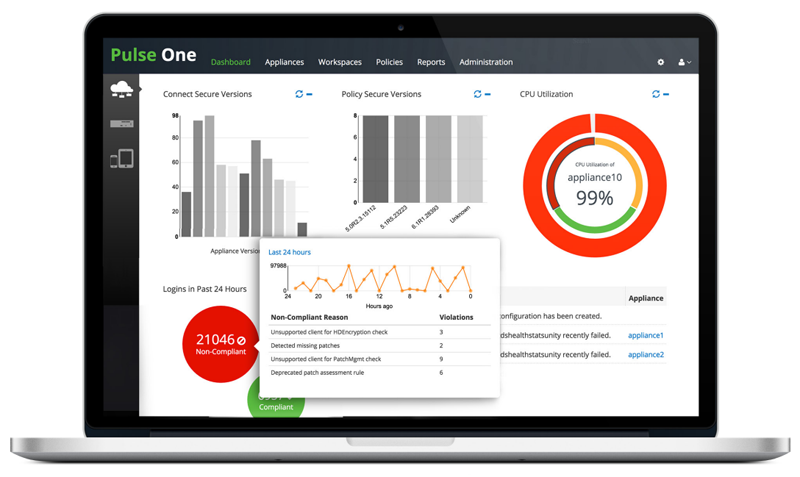 Mobility Management
Grants console access based on IT role and credentials


Central Administration
Administers multiple appliances without box-by-box logins


Group Management
Permits creation of custom-defined groups for updates and more


Compliance Reporting
Enables System dashboard for users, devices, and apps

Rethink Secure Access with Pulse Secure
Manage your Secure Access infrastructure from one single easy-to-use console -Pulse One.

Features:


Mobility Management
Provides basic EMM functionality for iOS and Android devices and BYOD workspace management


System Dashboard
Assesses the health of all appliances and provides security alerts and appliance alarms


Appliance Dashboard
Provides appliance status with analytics for connectivity, capacity, utilization, and uptime


Audit Logging
Tracks administrator changes to appliance configuration


Monitoring and Reporting
Monitors system activity and provides historical reporting


Back-Office Integration
Uses APIs and connectors for easy integration with Active Directory and other systems
How It Works:
Remote and mobile access management
Control and manage access end-to-end, from a centralized console
Pulse One is an easy-to-deploy SaaS solution for VPN, network access control (NAC), and mobility that supports unified management of endpoint and mobile device security for all users and devices.
Pulse One Software
Pulse One On Premise Software
#PS-PONE-LICENSE-ONPREM
Our Price: $10,000.00
Pulse One Gold Support Services
Pulse One Cloud Service for 5 appliances with 1 Year validity and Includes Pulse Secure Gold Support Services.
#PS-PONE-CLD-5A-1Y
Our Price: $2,499.00
Pulse One Cloud Service for 25 appliances with 1 Year validity and Includes Pulse Secure Gold Support Services
#PS-PONE-CLD-25A-1Y
Our Price: $9,999.00
Pulse One Cloud Service for 25 appliances with 3 Years validity and Pulse Secure Gold Support Services
#PS-PONE-CLD-25A-3Y
Our Price: $28,497.00
Pulse One Platinum Support Services
Pulse One Cloud Service for 25 appliances with 1 Year validity and Includes Pulse Secure Platinum Support Services
#PS-PONE-CLD-25A-PLN-1Y
Our Price: $11,998.00
Pulse One Cloud Service for 25 appliances with 3 Years validity and Pulse Secure Platinum Support Services
#PS-PONE-CLD-25A-PLN-3Y
Our Price: $34,196.00