Pulse Workspace

A mobile workspace for the next generation of workers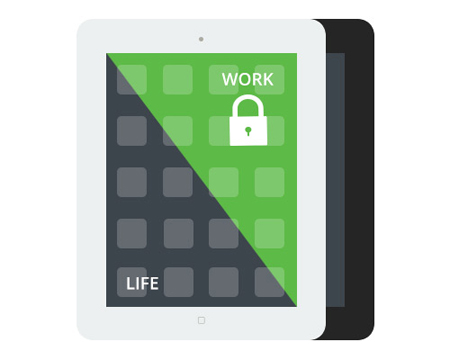 Pulse Workspace
Pulse Workspace Subscription 1 Year
Pulse Workspace 1 Year Subscription for 10 users
Includes Maintenance/Support
#PWS-10U-1Y
Our Price: $600.00
Pulse Workspace 1 Year Subscription for 25 users
Includes Maintenance/Support
#PWS-25U-1Y
Our Price: $1,475.00
Pulse Workspace  1 Year Subscription for 50 users
Includes Maintenance/Support
#PWS-50U-1Y
Our Price: $2,850.00
Click here to jump to more pricing!
Overview:
Has your mobile strategy outgrown the use of Exchange ActiveSync for device management? Rather than deploy a new enterprise mobility management (EMM) platform, you can simply activate the integrated EMM capabilities of Pulse Secure. Pulse Secure makes it easy to support BYOD, mobile apps and cloud services from iOS and Android devices.
Pulse One lets IT administrators control enterprise access to the data center and cloud from one management console. It enables converged policy management for security appliances and the mobile devices that connect to them. Pulse Workspace is the perfect container for "bring your own device" (BYOD), with security that separates enterprise and employee data, supports enterprise wipe, and can be used with any mobile app. Together, they provide a holistic solution that is userfriendly as well as easy to deploy and administer.

Problems We Solve
Email Configuration
Eliminate costly help desk calls to resolve email setup errors.
Enterprise Wipe
Selectively wipe corporate data and applications from BYOD devices without affecting user data.
Access Configuration
Provide a seamless and easy user experience with automatically provisioned certificate-based VPN and Wi-Fi access.
No More Passwords
Single sign-on (SSO) with certificate-based authentication eliminates headaches for your help desk and users.
App Push
Push and configure apps by group policy via a curated app catalog.
Enterprise access management made easy
Harness the power of enterprise mobility without the headaches of deploying a new platform. Pulse Secure provides a holistic solution that is cloud-deployed and integrates directly with your VPN. Manage iOS and Android users to a single security and compliance standard that protects corporate information while also enabling the use of mobile apps, BYOD and cloud services.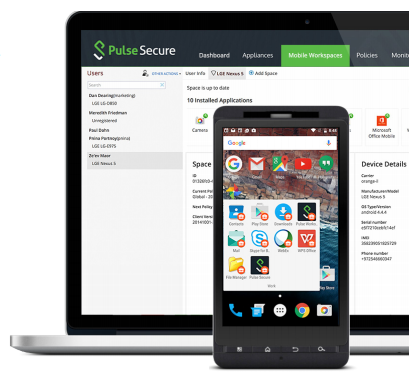 Users love Pulse Workspace because it lets them use the device they prefer for work with a native user experience and seamless access to the apps and services they need.
No Mess Mobile App Management
Curate and deploy apps by group via an enterprise app catalog.
BYOD Workspace
Workspace separation ensures user privacy and a native user experience.
Device Choice
Bring the device that you choose to work - Android or iOS.
Cloud Based
Manage Pulse Workspace through our beautifully designed, cloud based Pulse One console.
Automatic Access with Connect Secure
Certificate-based authentication automatically enables VPN and email access.
App Choice
Access to unmodified enterprise-approved apps in the Google Play and Apple App Store enables the use of Microsoft Office and other popular app suites.
Relaxed Users
Users rest assured that their privacy is not invaded and their personal data won't be wiped.
Automatic Push and Provision
Corporate network settings and apps are configured automatically on the device.
Tech Info:


App Catalog
Deploy and configure enterprise apps from a group-based catalog.


Workspace Management
Cloud based central management with corporate directory service integration.


Device Compliance
Ensure devices aren't compromised by jail-breaking, root kit or usb debugging.


Device Security
Enforce appropriate use of encryption and local PIN code complexity.


Data Protection
Granular data sharing policies married with selective wipe.

Employee Privacy Protection
Your workers information is theirs and only theirs.


Email Configuration
Auto-provision email access to free your helpdesk.


Per-App Connectivity
Automatically connect to the data center with per-app VPN and to the cloud via policy-based split tunneling.

That's just the beginning, take a look at features and benefits tab for more information.
Features and Benefits:
Feature
Feature Description
Application Controls

Deploy apps via group-based app catalog with mandatory and optional downloading
Remotely deploy applications
Preconfigure apps using industry APIs
Provides application white-listing
Apps can be remotely removed or wiped
Supports per-app on-demand VPN connectivity to the data center
Support split tunneling to the cloud with whitelisting and blacklisting policies

Data Protection

Offers native sharing restrictions
Offers password protection
Prevents personal applications from using enterprise data
Enables remote wipe of enterprise data
Provides remote lock of device in case of theft or loss

Workspace Management

Over-the-air workspace deployment and policy management
Centralized policy management
Group-based, user-based, or device-based management
Centralized dashboards
Actionable reporting
Cloud-based management platform
Layered policy management
Policy expiration setting forces periodic refresh

Employee Privacy Protection

Manage and wipe only enterprise applications.
Personal applications run privately and are isolated from enterprise applications.
Personal data is not visible to the enterprise
No sensitive enterprise data is sent to, or stored on, the centralized console.
Employee's personal activities and device location cannot be accessed by the admin, under any circumstance

E-mail Settings and Options

Provides ActiveSync support
Offers POP3 account management
Provides IMAP account management

Device Compliance

Root and jailbreak detection
Enforce device encryption
Blocks USB debugging

Device Restrictions on iOS

Block installation of new applications
Block use of Camera
Block use of iCloud Backup
Block use of iCloud document sync
Block use of iCloud Keychain sync
Block ability to open from managed to unmanaged
Block ability to open from unmanaged to managed
Block screenshots
Block use of Siri
Block use of Siri when device is locked

Passcode Restrictions

Provides passcode expiration
Allows maximum incorrect passcode attempts
Provides passcode complexity settings

VPN Management

Define VPN connection for workspace to use
Provide certificate or password-based authentication
Populate username automatically for authentication
Restrict VPN to only inside the workspace

Wi-Fi Management

Define Wi-Fi access points for end users
Supports WiFi settings for WPA2, WEP, EAP-TLS, EAP-TTLS, and EAP-PEAP
How It Works:
A non-intrusive design built for both IT and the next generation of workers.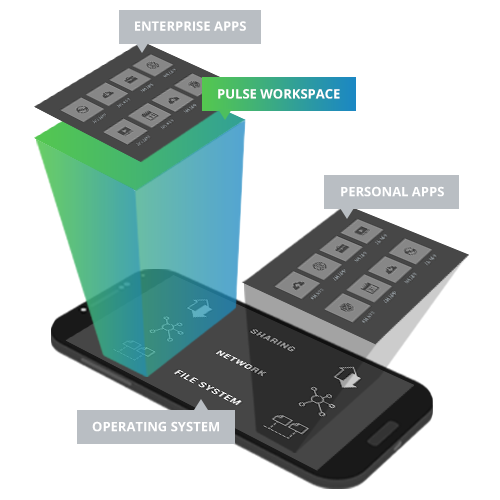 Pulse Workspace Subscription 1 Year
Pulse Workspace 1 Year Subscription for 10 users
Includes Maintenance/Support
#PWS-10U-1Y
Our Price: $600.00
Pulse Workspace 1 Year Subscription for 25 users
Includes Maintenance/Support
#PWS-25U-1Y
Our Price: $1,475.00
Pulse Workspace  1 Year Subscription for 50 users
Includes Maintenance/Support
#PWS-50U-1Y
Our Price: $2,850.00
Pulse Workspace 1 Year Subscription for 100 users
Includes Maintenance/Support
#PWS-100U-1Y
Our Price: $5,300.00
Pulse Workspace 1 Year Subscription for 250 users
Includes Maintenance/Support
#PWS-250U-1Y
Our Price: $12,000.00
Pulse Workspace  1 Year Subscription for 500 users
Includes Maintenance/Support
#PWS-500U-1Y
Our Price: $20,000.00
Pulse Workspace 1 Year Subscription for 1000 users
Includes Maintenance/Support
#PWS-1KU-1Y
Our Price: $37,000.00
Pulse Workspace  1 Year Subscription for 2000 users
Includes Maintenance/Support
#PWS-2KU-1Y
Our Price: $70,000.00
Pulse Workspace 1 Year Subscription for 2500 users
Includes Maintenance/Support
#PWS-2500U-1Y
Our Price: $85,000.00
Pulse Workspace 1 Year Subscription for 5000 users
Includes Maintenance/Support
#PWS-5KU-1Y
Our Price: $165,000.00
Pulse Workspace Subscription 2 Years
Pulse Workspace 2 Year Subscription for 10 users
Includes Maintenance/Support
#PWS-10U-2Y
Our Price: $1,140.00
Pulse Workspace 2 Year Subscription for 25 users
Includes Maintenance/Support
#PWS-25U-2Y
Our Price: $2,800.00
Pulse Workspace 2 Year Subscription for 50 users
Includes Maintenance/Support
#PWS-50U-2Y
Our Price: $5,400.00
Pulse Workspace 2 Year Subscription for 100 users
Includes Maintenance/Support
#PWS-100U-2Y
Our Price: $10,000.00
Pulse Workspace 2 Year Subscription for 250 users
Includes Maintenance/Support
#PWS-250U-2Y
Our Price: $23,000.00
Pulse Workspace 2 Year Subscription for 500 users
Includes Maintenance/Support
#PWS-500U-2Y
Our Price: $38,000.00
Pulse Workspace 2 Year Subscription for 1000 users
Includes Maintenance/Support
#PWS-1KU-2Y
Our Price: $70,000.00
Pulse Workspace 2 Year Subscription for 2000 users
Includes Maintenance/Support
#PWS-2KU-2Y
Our Price: $132,000.00
Pulse Workspace 2 Year Subscription for 2500 users
Includes Maintenance/Support
#PWS-2500U-2Y
Our Price: $160,000.00
Pulse Workspace 2 Year Subscription for 5K users
Includes Maintenance/Support
#PWS-5KU-2Y
Our Price: $310,000.00
Pulse Workspace Subscription 3 Years
Pulse Workspace 3 Year Subscription for 10 users
Includes Maintenance/Support
#PWS-10U-3Y
Our Price: $1,440.00
Pulse Workspace 3 Year Subscription for 25 users
Includes Maintenance/Support
#PWS-25U-3Y
Our Price: $3,525.00
Pulse Workspace 3 Year Subscription for 50 users
Includes Maintenance/Support
#PWS-50U-3Y
Our Price: $6,900.00
Pulse Workspace 3 Year Subscription for 100 users
Includes Maintenance/Support
#PWS-100U-3Y
Our Price: $12,600.00
Pulse Workspace 3 Year Subscription for 250 users
Includes Maintenance/Support
#PWS-250U-3Y
Our Price: $28,500.00
Pulse Workspace 2 Year Subscription for 500 users
Includes Maintenance/Support
#PWS-500U-3Y
Our Price: $48,000.00
Pulse Workspace 3 Year Subscription for 1000 users
Includes Maintenance/Support
#PWS-1KU-3Y
Our Price: $90,000.00
Pulse Workspace 3 Year Subscription for 2000 users
Includes Maintenance/Support
#PWS-2KU-3Y
Our Price: $168,000.00
Pulse Workspace 3 Year Subscription for 2500 users
Includes Maintenance/Support
#PWS-2500U-3Y
Our Price: $202,500.00
Pulse Workspace 3 Year Subscription for 5K users
Includes Maintenance/Support
#PWS-5KU-3Y
Our Price: $390,000.00